Adhesive tape insect catcher MPX-7000 series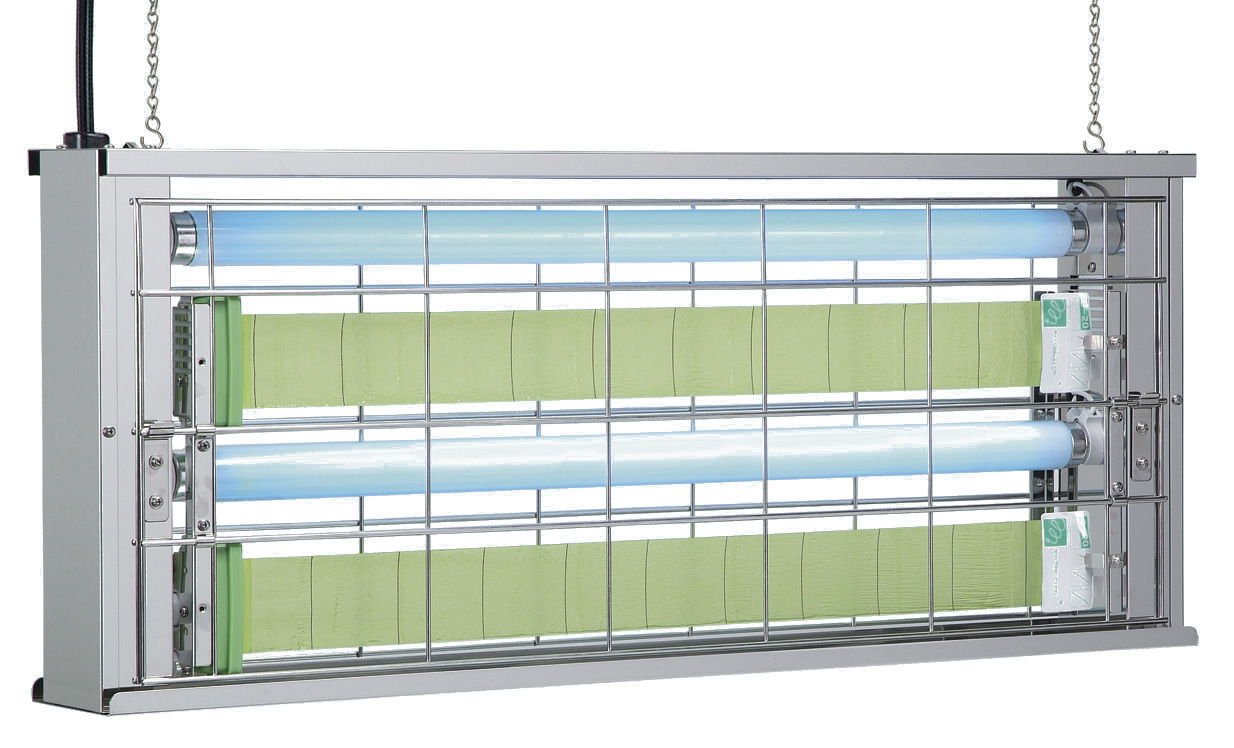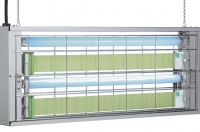 Does not reduce an insect-catching efficiency bu using 2 lamps and 2 tapes
This product lures flying insects by UV ray at the wavelength of 365nm (which insects prefer) and keeps them trapped with powerful trapping tape. Even if only a leg of an insect touches the sheet, it can capture the insect, as the sheet has a thick adhesive layer. As the sheet does not release even small insects, it can capture many insects.

Utilizing no pesticide, the product is free of toxic, zapping noises, odor, and smoke. This insect catcher keeps out insects that are potential carriers of harmful bacteria such.
By keeping the insect bodies complete, users can also determine the source of outbreak and paths of insect intrusion based on the type of insects trapped.
The trapping tape does not dry up easily and offers exceptional adhesion delivering ultra-long product life.

・Effectively captures and traps pests that may carry bacteria
・Traps insects such as flies, moths, midges, leaf beetles, stink bugs and so forth

HACCP safety standard
You are able to use these machine as a part of the implementation of HACCP. The glue tape is very efficient compared to electric insect catcher because it doesn't scatter the dead insects and is possible to check the number of trapped insects and types of insect to measure the pest controls.
Features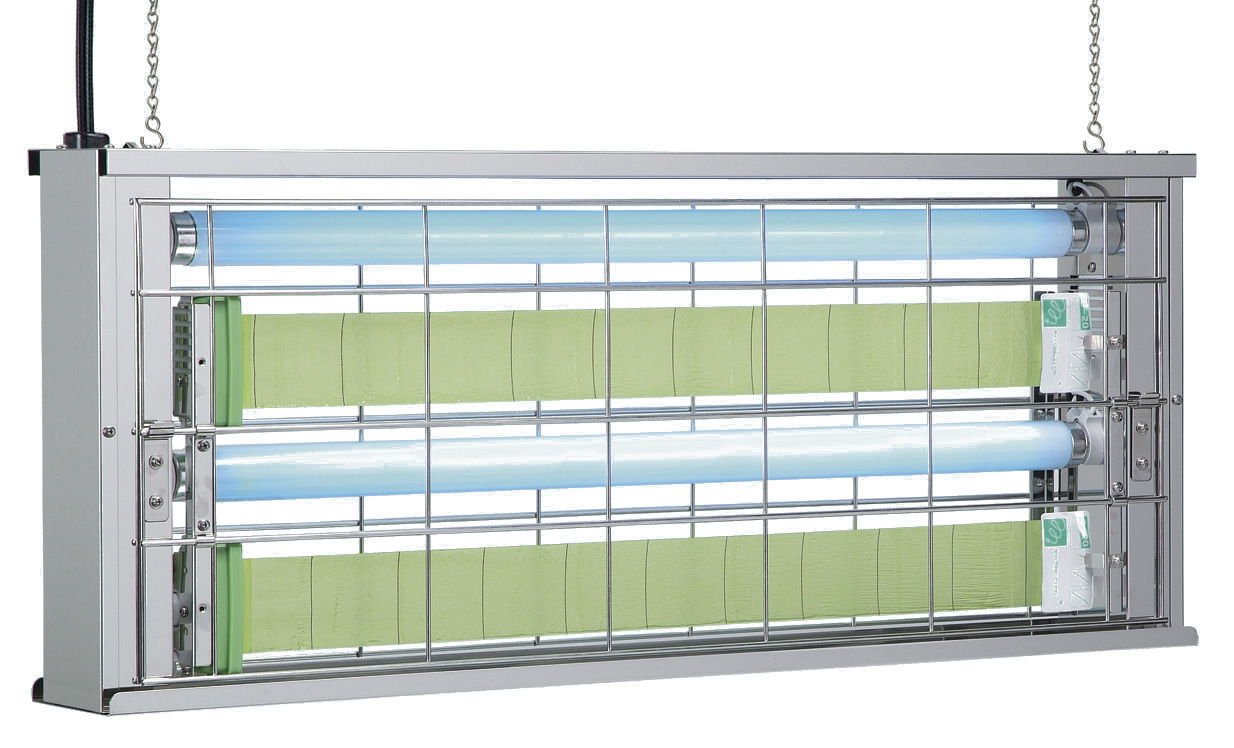 2 lamps and 2 tapes
Does not reduce an insect-catching efficiency bu using 2 lamps and 2 tapes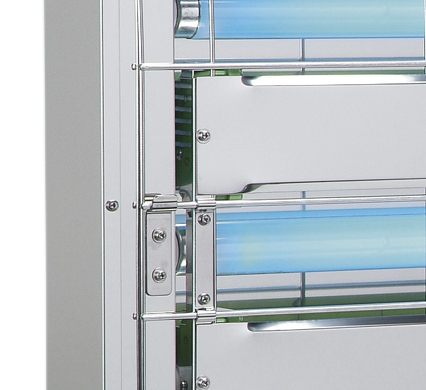 Made of stainless
Made of stainless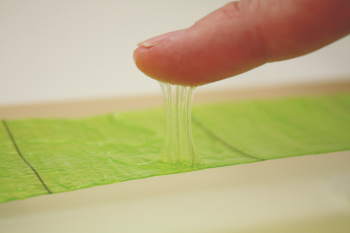 Sustainable adhesive force
Adhesive resin tape with sustainable adhesive force.
The special tape that can sustain adhesive force more than one year from the start of use has the highest level of capture force in the industry.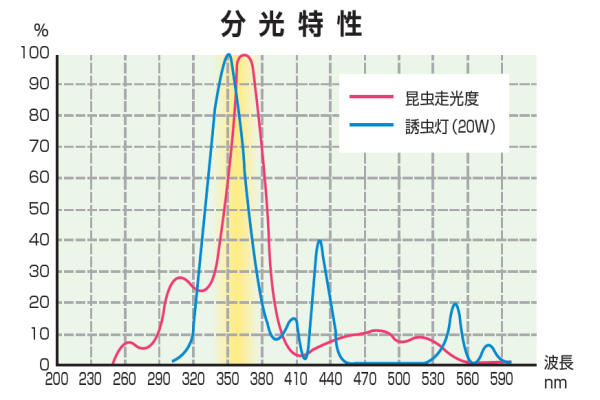 No harmful chemicals, silent, odorless
Lure flying insects efficiently by 365nm wavelength of light. High insect luring efficiency.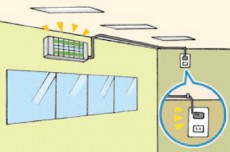 The length of power cord
Possible to extend the length of power cord. (Paid service)
Specifications
| | |
| --- | --- |
| Product Name | Adhesive tape insect catcher MPX-7000 series |
| Product Number | MPX-7000 |
| Power source | 100V/220V 50/60Hz |
| Luring lamp | FL20SBL 20W×2 |
| Effective area | 60~90㎡ |
| Dimensions | 685×90×280 mm |
| Insect trapping tape | S-20 x 2 |
Product Lineup
MPX-7000

Double-sided luring model with no cover

Hanging type
Weight: 3.5kg
Made of stainless steel

MPX-7000DXA

Double-sided luring model with front covers to hide the trapped insect.

Hanging type
Weight: 3.8kg
Made of stainless steel

MPX-7000DXB

Single-sided luring model
This model prevents the light leaking outside. Convenient for hanging at window side.

Hanging type
Weight: 3.9kg
Made of stainless steel



MPX-7000SDX

Single-sided luring model with front covers
This model prevents the light leaking outside and hide the trapped insect.

Hanging type
Made of stainless steel
Weight: 4.2kg



MPX-7000DXAA

Double-sided luring model with front and back covers to hide the trapped insect.

Hanging type
Weight: 4.0kg
Made of stainless steel

MPX-7000K

Single-sided luring model
Wall mounting type

Weight: 3.6kg
Made of stainless steel